Brand Story
JONNESWAY® was founded by the general manager Mr. Joseph Liao. Mr. Liao is a manager with optimistic personality, hard-working attitude, and foresighted thoughts.
Looking up to the Chicago sky, Mr. Liao was not in the mood of sightseeing. If he could not draw in new customers, his company would run out of business. Luckily, he met new customers who ran transshipment trade via Florida, USA to South America and saved the business. In his 15 years of participation in the Chicago International Hardware Show, what Mr. Liao familiar with was not the beauty of Chicago but the hotels, exhibition sites, and restaurants- places where he did business with his clients.
Customers were price oriented. Quality seemed to the least concern. One time, Mr. Liao flew 22 hours to the U.S.A. to meet with his potential customer. However, the customer did not spare any time for him on Friday afternoon. He had to wait till Monday morning. Walking on the crowded street under the snowy sky of U.S.A., Mr. Liao carried two 50 kg suitcases and could not even get a taxi. His jacket was covered with snow, his shirt was soaked with sweat, and his night was freezing and hungry. On the following Monday morning, Mr. Liao had only 5 minutes for his sales pitch. Although his products were great in quality, his company still couldn't avoid the incoming price war. To gain new order, it had to sacrifice quality. There was no guarantee that the order would always be his. Sacrificing quality to lower the price and win over new orders would draw in problems like customer complaint about the quality. The future of the price war seemed to be hopeless.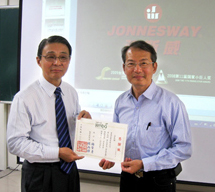 Day after day, Mr. Liao wondered: "Why do I have to cut price to win over customers when my products have the highest quality?" Mr. Liao was looking for the long term business with good reputation and credibility which were the spirits of created JONNESWAY®.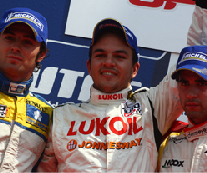 JONNESWAY® committed itself in establishing good business reputation and credibility with Passion, Affection and Patience. To establish good business reputation, JONNESWAY® sponsors world famous car racings, holds major marketing and advertising campaigns worldwide, provides cooperative education opportunities, and participates in public welfare activities. These not only build up the brand visibility but also strongly enhance the brand image of JONNESWAY® professional tools series.
As for the creditability, JONNESWAY® planned to invest China around 7 years ago; however, JONNESWAY® kept its promise to protect the border for Russia & CIS distributors. With 7 years protection, Russian distributors made JONNESWAY® the no.1 brand in Russia. After that, JONNESWAY® started expanding distribution network in China.
It is well-known that Chinese culture emphasizes the value of creditability. Mr. Liao, the founder and general manager of JONNESWAY®, conclude that JONNESWAY® long term business goal is based on the inheritance of this spirit.