2016
Jonnesway Branding
To increase publicity of Jonnesway brand in the global markets, Jonnesway family members are all very diligent and remain active in international, local shows, and participating in relevant advertising activities, such as sponsoring car racing events. These activities are very effective to deepen the impression of Jonnesway and arise brand consciousness of brand in people's mind. We would like to congratulate our partners in Chile and Costa Rica for their successful activities and sincerely hope all Jonnesway family members remain healthy, energetic and successful.
AUTOMECHANICA DUBAI 2016
Period from May 8th to 10th. Thanks to the effort Jonnesway family in the Middle East area made, Jonnesway is quite well known in this area and we keep receiving inquires from visitors. We will keep working on this market to make the brand stronger and bigger along with the development in this area.
<![if !vml]>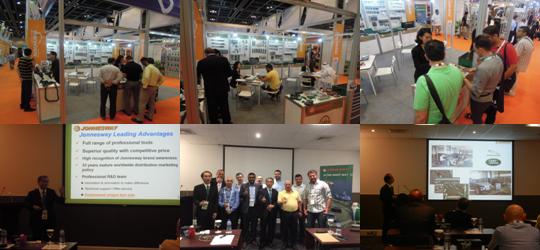 <![endif]>
TYREXPO AMERICA 2016 & EXPOFERRETERA COSTA RICA
To penetrate the Costa Rica market, our partner participate exhibitions actively which were held in April and May. The display was neat and coherent to Jonneway image. New products are also very attractive.
<![if !vml]>

<![endif]>
RALLYMOBIL 2016
Jonnesway's Chile partner sponsored the RALLYMOBIL 2016. This is a great opportunity to increase exposure of the brand in front of many professional people. It will also effectively strengthen the recognition and loyalty of users to Jonnesway brand.
<![if !vml]>

<![endif]>